A new album by Ayumi Hamasaki "Colours" will be released on July 2nd! The commemorative special corroboration of Ayumi Hamasaki with Tower Records Shibuya will take place!
The first exhibition of Ayumi Hamasaki's stage costumes!
We will display the costume worn by Ayumi Hamasaki for the new album "Colours" on the ground floor of Tower Records in Shibuya!
Taking photos will be allowed during the exhibition! You might experience something nice when you tweet with a photo you take!
Twitter: #ayumi_new_album
Exhibition: From June 1st 10:00 a.m. to June 7th 11:00 p.m.
■ "Colours" panel exhibition!
At Tower Records Shibuya store 1F, Music Clip shot of album of AYUMI HAMASAKI"Colours" will be exhibited!
Panel Exhibition period: 7/1 (Tuesday) from opening time to 7/7 until (Monday) closing time
■ AYUMI HAMASAKI and Tower Records Shibuya and ABC-MART triple collaboration shopping gift bag give away!
We present a triple collaboration shopping bag to the person who purchase at Tower Records Shibuya AYUMI HAMASAKI NEW ALBUM the "Colours".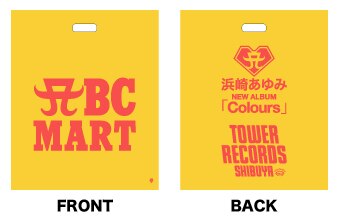 Shopping bag will be given from Tuesday July 1 from the time of the product arrival.
※ Please note that this give away is applicable only for those who have purchased in the cash register of 3F or 1F of Tower Records Shibuya 1F.
※ Shopping bag will be first-come first-serve base. Please come earlier because there is a limited number!
Also, during campaign period at the store for "Colours", 12:00 to 16:00 July 3 (Thu) - July 5 (Sat) and at 10:00 to 14:00 July 6 (Sun)
at Tower Records Shibuya campaign booth we give away the triple collaboration shopping bag. (1 for 1 person )
※ As there is a limited number of triple collaboration shopping bag give away during "Colours" Special campaign, please come earlier to get it free!
■ "Colours" Special campaign at the store!
At Tower Records Shibuya entrance, the campaign "Colours" will be held!
We present lottery ticket to those who purchased AYUMI HAMASAKI NEW ALBUM "Colours" at Tower Records Shibuya!
Lucky draw to win poster of "Colours" pre-advising ad.
Lucky draw period : 10:00 - 20:00 Thursday July 3 to Sunday July 6.
※ Please note that the prize will end as all are gone.
Please drop in to Tower Records Shibuya Shibuya, when you come to Shibuya!